Exterior Lighting Services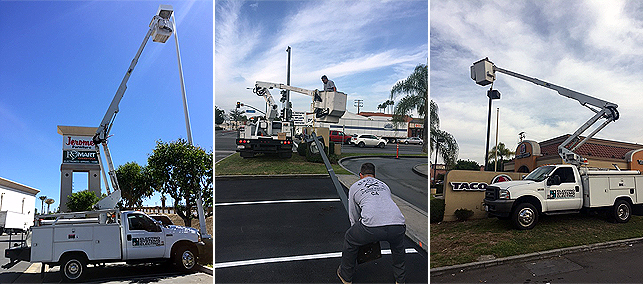 As a professional electrical contractor with over 30 years of experience we proudly provide the following lighting services throughout Southern California:
Parking lot pole replacements, or building lighting can be accommodated for all types of projects with use of our articulated high lift trucks. This work can be changing 1 light bulb, replacing 100 bulbs, or removing and replacing parking light poles that have rusted out.
LED and or Retro fitting parking pole lights, on building, or ground lighting can be completed using the latest in energy saving bulbs or fixtures at competitive rates. (more info)
Troubleshooting parking lot underground wiring due to age or theft is our specialty and our 30 years of experience in this area save you the customer time and money.
Installations, repairs, or emergencies when customers call, we are ready to respond 24/7 whether the need is for a competitive request for proposal, basic electrical work, or the need for emergency service.
Monthly contracted service accounts where we inspect a site on a designated monthly or biannual date completing a survey of working conditions and then automatically follow up and complete the repairs necessary to maintain full lighting at all times.
Time clock, integrated timer controls, and computer assisted energy saving devices for repair and troubleshooting when called for.
24 hour service is maintained 7 days a week, including holidays.
Corporate or national accounts are welcome and we have many companies that utilize our services; call orders can be by phone or e-mail.